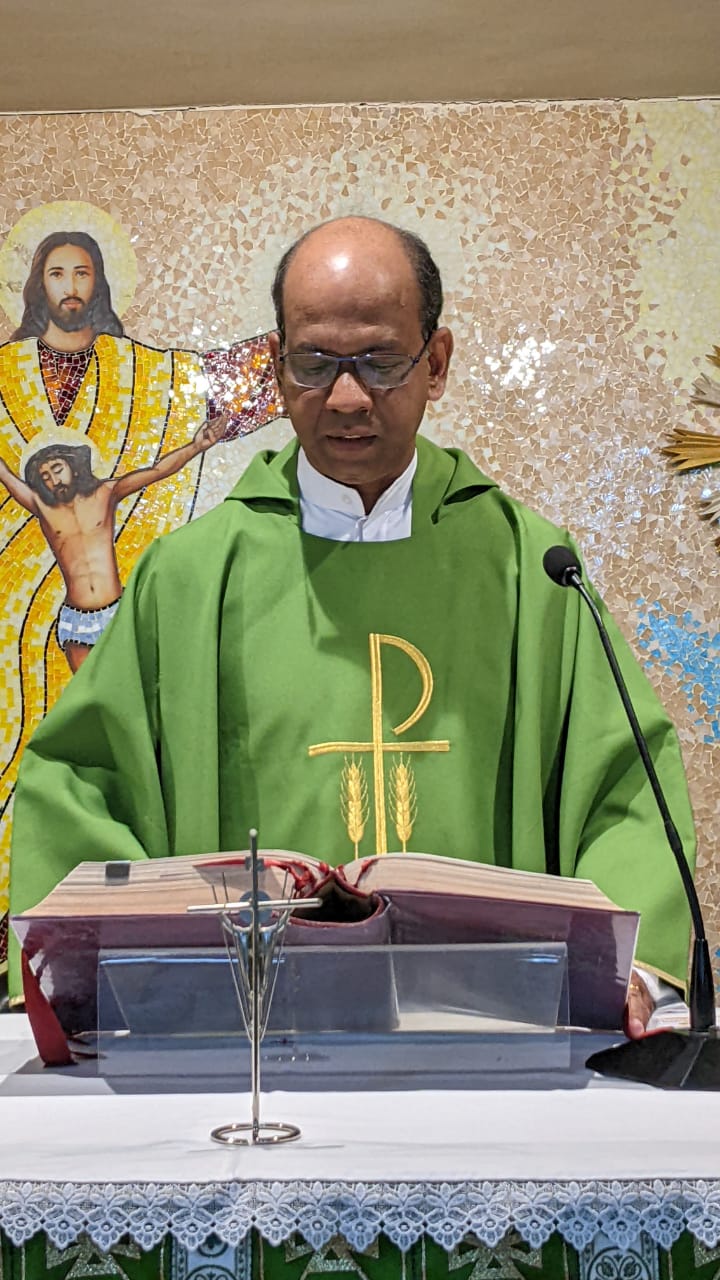 Day three (15 January 2023) of the XIX Provincial Chapter began with the morning prayer led by Fr Robert Correa, followed by the Eucharistic celebration presided over by Fr Saji Anthony. In his homily, Fr Saji Anthony highlighted the respective call and mission of John the Baptist and Jesus. He reminded us about the necessity of our availability to the Lord, like St Paul, and the need to self-empty ourselves like Jesus for our mission. He concluded his message by inviting us to love, cherish and protect our vocation.
The day's session began at 9 a.m., invoking the Holy Spirit. The previous day's report was read, and the assembly passed it without any amendments. Afterwards, Fr Varghese Alengadan presented the 'Vision Formulation' session. He reminded the assembly that the purpose of the vision is to guide us. Religious founders had great visions. Countries have a vision in the preamble of their constitutions. But conflicts arise due to deviations from vision. The vision needs to be original, creative and integral. The vision arises from experience, awareness, and reflection. The vision statement should be goal-oriented, clear, focused, and simple, and it should be a win-win situation for both the individual and the congregation. In other words, we need to personalise the vision statement and integrate the vision into the socio-political situation of our country. In this case, we may have to critically evaluate some of the activities that do not fall into the vision of the Province and incorporate new initiatives which require critical thinking and evaluation. Fr Alengadam also gave some practical tips for one's spiritual growth.
Then the assembly was divided into 5 groups to formulate the vision statement for the Province. After discussing it in their respective groups, each came up with a draft vision statement. To incorporate the different vision statements into one working vision statement, a core committee comprising of one each member from each group – Frs Joseph T C, Dominic D'Silva, Prithvi Raj, Sajith Cyriac, Sebastian Thomas – together with Joby Mathew and Jacob Parapally (Chapter Facilitator) was formed.
At the end of the session, Fr Prithviraj thanked Fr Alengadan for his enriching reflections and inputs on behalf of the assembly.
In the second part of the afternoon session, Fr Sajith Cyriac was elected as the Chapter Secretary in the second ballot with an absolute majority. Subsequently, Fr Joseph TC was elected as the Chapter Moderator in the second ballot with an absolute majority. Thus, the Chapter Core Committee, comprising the President, Chapter Secretary, Chapter Moderator, one of the Actuaries (Fr Jose Mathew) and Fr Johnson Vattakunnel, was formed, who in turn will plan the Chapter proceedings for each day.
The day's proceedings ended at 8.00 pm with the Eucharist adoration conducted by Br Richard Vallikatt.
comments